The mysterious merchant Xur has reared his unsettling face once again on PC, PS4, and Xbox One.
With Destiny 2's latest Faction Rally underway, he has a selection of Exotic items for sale.
Along with a special Engram and your chances of securing additional Exotics. Here's exactly what Xur is selling this week and where to find him.
Flashpoint on Mercury, Xur has taken up residence on the Tower on usual spot on the right side of map, where anyone can find him, provided they've finished the campaign.
He's just behind where the Dead Orbit Faction is set up. A staircase just behind that area will lead you right up to Xur i on nudi ukupno 97 Legendary Shards.
In terms of items, each class gets one piece of Exotic armor, while the weapon up for grabs is the Tractor Cannon.
This Exotic Shotgun is worth the price of admission alone for its ability to hilariously knock enemies back.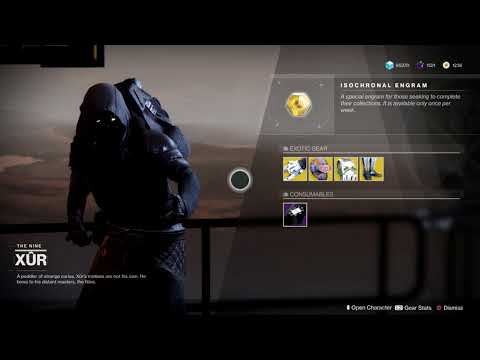 //TODO: Rijesiti rating i odkomentarisati ovo kad rijesim ?>