Without any inside information, it can be said that Fifa 16 is going to beat the records that Fifa 15 set last year. It was an amazing year for Fifa 15 as it was declared as the most selling Fifa edition from EA Sports ever. It looks like Fifa 16 is going to beat Fifa 15 at ease. The game is going to release on September 22nd, 2015 and the game has already created massive buzz around. Are you ready to go for a sliding tackle in the Fifa World? This review is dedicated to all the Fifa lovers around the world.
Before we move ahead with the review, let's have a look at the original trailer of Fifa 16.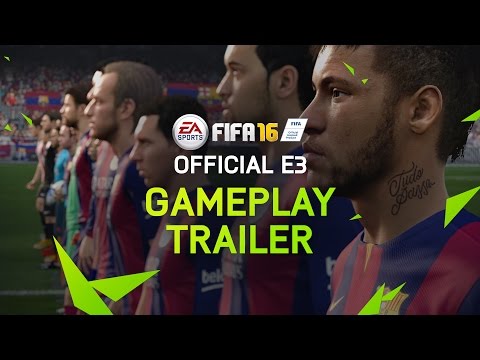 To be honest, the trailer was good but Fifa trailers were always great. You shouldn't consider buying Fifa only because of this trailer. Let's discuss further about the features that Fifa will have this season. We will not talk about the ordinary or regular features that Fifa 15 had too. We will only discuss about the features that are exclusive for Fifa 16.
Special Features of Fifa 16
The tagline of Fifa 16 is Play Beautiful. It has this tagline for reasons and let's see what the officials said about the features of Fifa 16. These are the features which will be exclusive in Fifa 16.
Great Defense: Well, scoring goals will be harder in Fifa 16 as defense is more organized now. The defenders are more agile now in the field and at the same time, they have learnt how to work as a team. When one defender will be targeting you, the others will target your possible destination area which will make things tough as an attacker. On the other hand, you will have an amazing experience when you are defending because there has been so much improvement in this area. One special feature is the quick slide mode. Previously, if you had missed one sliding tackle, it was all gone because the defender used to take a huge time to get back into the game. Well, Fifa had completely changed it and now you are allowed to stand up from a sliding tackle if that is missed within nanoseconds. This will give defenders more power.
The Power of Midfield: Fifa 16 believes that games are won in midfield and the game is designed in a way so that you feel comfortable to build up a game in the midfield area. The through balls will be more lethal in this version and the counter attacks will be less. It is all on the midfield now.
Intelligent Interception Technology: Passing and breaking passes will see an amazing new look in this edition. The system now can predict where the next pass will be and there will be interception to your passes if you are not dead accurate.
No Touch Dribbling: No touch dribbling is one of the coolest parts of football and Fifa 16 will have it all. You will be able to perform no touch dribbling skills with qualified players. This is a hard skill to complete so you need a lot of practice.
Women's National Team: This is going to be the wonder of this season. Why would you play with only men when women football teams are doing so great around the world? Well, Fifa 16 will let you play with women national teams. This is a revolutionary attempt of Fifa and we all are eager to see what happens.
Lethal Finishing: Strikers will have to earn their goals in Fifa 16. As a striker, you will have to shot in corners and play with the minds of the goalkeeper before you finish the goal. It will be challenging and it will be a lot more fun.
Special Fifa Trainer:
Fifa always knew that had to introduce a training system in their new version. It was required in the Fifa 15 too which was not there. Well, you don't have to worry anymore because it is available now in Fifa 16. Train yourself to be a professional with pure gameplay managing. This will definitely make you a better player.
Here is how Fifa 16 Women's Gameplay will look like:
All in all, this is definitely going to be a huge success for EA Sports. The game is releasing this month and the pre-order has already started.
You can pre-order Fifa 16 from Amazon Here. The game is releasing for PlayStation, Xbox and PC at once.
//TODO: Rijesiti rating i odkomentarisati ovo kad rijesim ?>