Tahm Kench is a solo lane or support tank champion with pretty much everything.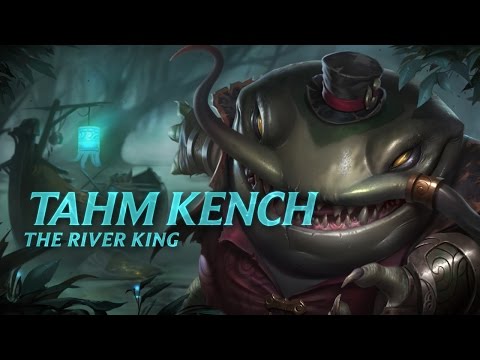 Abilities :
Passive :
Tahm Kench's Basic Attacks and damaging abilities apply a stack of An Acquired Taste to enemy champions. Against enemies with three stacks Tahm Kench's Tongue Lash and Devour are enhanced.
Tongue Lash

Active : After a brief delay Tahm launches his tongue in the target direction that stops upon hitting an enemy dealing magic damage and slowing them for 2 seconds
Range 800, Mana Cost 50, Cool down 6, Slow 50,55,60,65,70 %
Devour

ACTIVE: Tahm Kench swallows the target enemy minion, neutral monster or allied champion, placing them Untargetable for a short duration.
AN ACQUIRED TASTE: Enemy champions can also be swallowed for half the duration, removing their shared vision and reducing their sight radius to only their immediate surroundings.
Range 250, Mana Cost 90, Cooldown 14,13,12,11,10
Regurgitate
ACTIVE: Tahm Kench regurgitates the swallowed target, dealing magic damage if they are an enemy. This damage is capped against monsters.
//TODO: Rijesiti rating i odkomentarisati ovo kad rijesim ?>