All the gamers are always comparing between PES and Fifa. How can SheepArcade lag behind?
In the last two years, FIFA beat up PES at ease which was not usual. Looks like KONAMI got some issues to create and develop a good game. PES 2014 had some visual issues on players. The way the players were created didn't look like themselves at all and the game play was difficult too. Now on 2015 they fixed that problem but they create another one.
For long time they were using MLO Master League Online. Now its new myClub which is a copy of ultimate team but in this situation you can not change formation easily. it depends on manager that you hire and what kind of game tactics he use which is not acceptable. Come on, you should be the leader.
Fifa developed Ultimate Team with managers and cards. Now PES is using the same tactic but they ruined with options not be able to change scenario. Their formation and other game tactics are totally based on managers. It looks like PES starting copying FIFA at some points which is bad.
PES started their journey with great potential but looks like their option features are going to kill them.
FFIA also is not so perfect if you think properly. In ultimate team, you got cards of two types: They are Black Gold one and Gold one. Right now there are three different kinds of players there. Black Gold are the best one and have a better performance unlike the just Gold one.
Gold card have a little lower rating but it is always worth it. Also players with lower rating can tackle better. It is obviously not good because if you have a better player than other one and if he tackles more then he can get better results or he can be lucky no matter what kind of goal keeper you have.
To end this note, PES actually needs a lot more thing to do to be in a true competition with Fifa. Currently, Fifa is still the best.
Check this comparison video: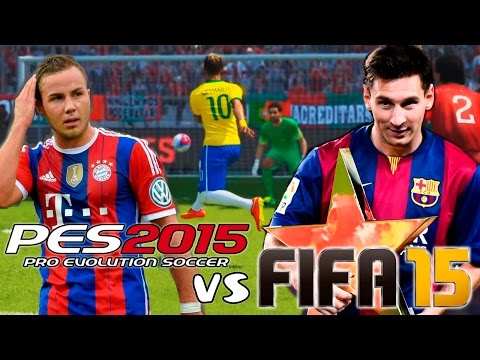 //TODO: Rijesiti rating i odkomentarisati ovo kad rijesim ?>